The magic moments of our life are like an energy booster to us.
Dressed in the right words, they carry and inspire us our whole life long.
2018
Al Walser's "Rebel & Caviar Night" – Hollywood Flair in Zurich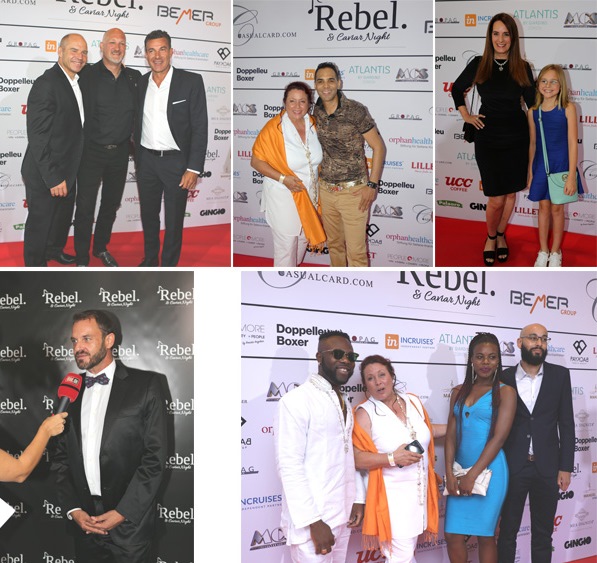 For the third time Al Walser invited to the Rebel & Caviar Night, for the first time in Zurich, in the 5 star hotel Atlantis. And when he calls, the celebrities come. The summer highlight of the Swiss scene was a glittering party. Stars from the music and acting industries came, as did the nobility, the cultural scene, producers, VIPs, sportsmen and women and hip celebrities from business and politics.
Al Walser (42), Grammy winner, singer, songwriter, producer, US TOP 20 show, composer, promoter and journalist, is excellently networked in Europe and invites once a year to a roaring party.
Ex-skiing star Marc Girardelli made a special trip, as did tennis star Carl-Uwe Steeb, to celebrate together with BEMER President Pit Gleim and their friend Al Walser. Speaker and business expert for neurocommunication/marketing, Astrid Arens, came from Bad Honnef. They got to know each other in LA and met again in Switzerland. It couldn't be more international. A special guest who flew in directly from Los Angeles was Lisa Haisha, Life Coach and Speaker, who addressed inspiring words to the audience.
2018
Elton John's Aids Foundation Oscar Gala Party – a mega event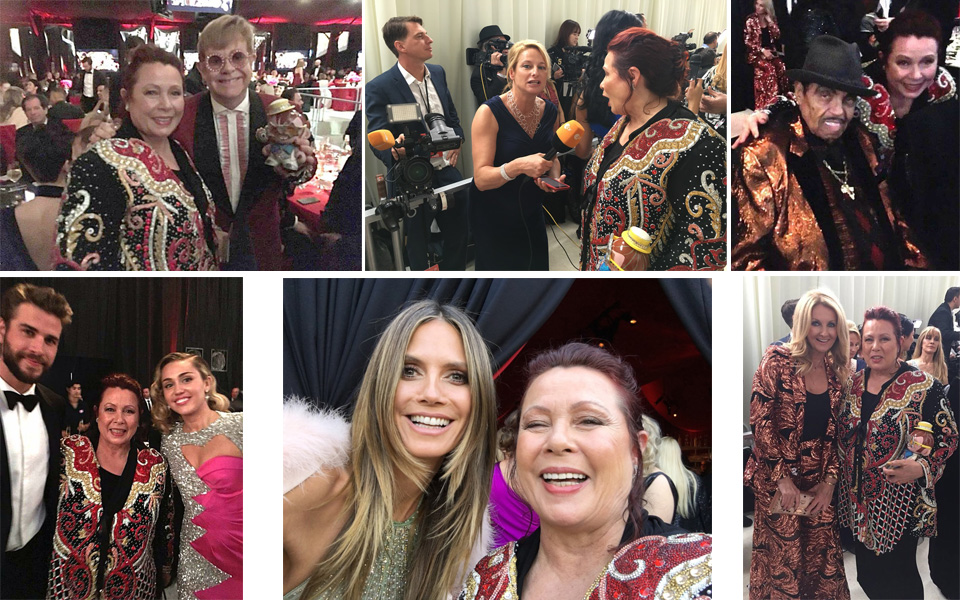 Now it is time to celebrate, sniff Hollywood air, get in close contact with stars and to network. There is a magical atmosphere on site
What a media event, what a brilliant party. 20 meters of "Red Carpet", on which world stars, celebrities, VIPs, business giants, business experts and the world press are cavorting. Interviews were given and plans for the future were forged.
For Astrid Arens, this also fulfills a long-cherished dream. She wanted to get to know Elton John personally, exchange ideas with him and be inspired by him. For her intention she was dressed by the Cologne star designer Maria Lucas with a breathtaking rhinestone robe. The artist Stor Dubiné (Nestor Pérez) from Berlin specially made a gift for Elton John: a small Elton doll.
In the further course of the evening she actually managed to personally present Sir Elton John with the surprise gift "made in Germany". He beamingly said: "This is a wonderful gift." He is very happy about it. The Americans will love my charm and my passion.
2018
The German Oscars – Villa Aurora, Pacific Palisades am Paseo Miramar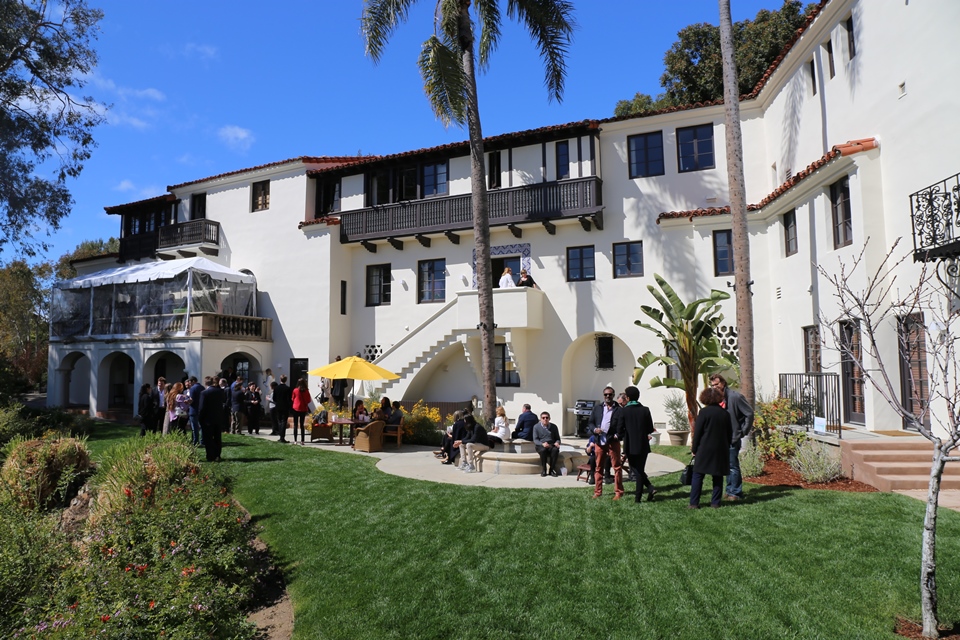 Every year, representatives of the German and international cultural and film scene gather here. Every Saturday before the Oscar ceremony, this year it was on 3.3.18, the Villa Aurora, the German Film and the German Consulate General, represented by Mr. Hans Jürgen Neumann, will host the reception.
Besides Gerd Nefzer, nominated for the best visual effects in "Blade Runner 2049" by Denis Villeneuve, the best foreign-language film "A Fantastic Woman" received an award.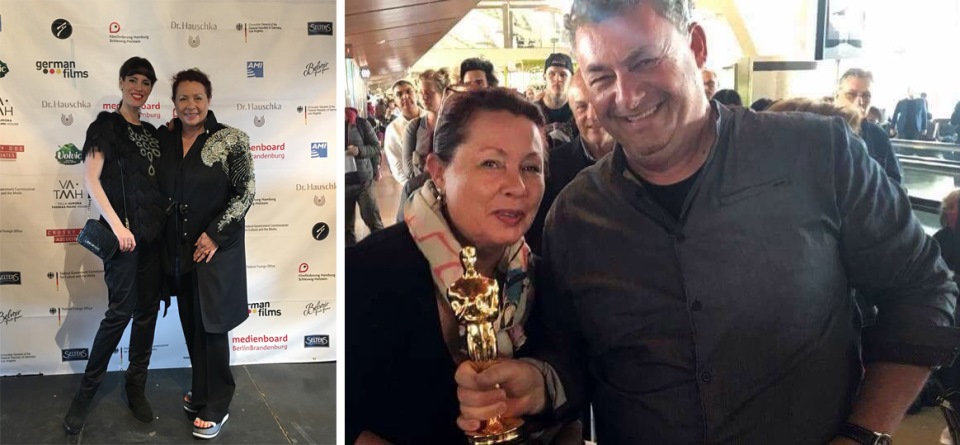 It was a very special honour that for the first time not only artists and actors but also top German speakers were invited. One speaker attracted particular attention: The German top speaker and business expert Astrid Arens. Her passion is (neuro-)communication/marketing, which was very well appreciated by the guests. Gerd Nefzer (Oscar winner) congratulated her on her great speaker success and said: "great topic – strong concept". Adrienne McQueen (US-German actress and singer, known from "The Fast and the Furious" with Vin Diesel) said: "A topic that fits in today's world, absolutely important." Werner Daehn, one of the most successful Hollywood exports (known from "xXx" with Vin Diesel and "Valkyrie" with Tom Cruise) and Ruth Bornhauser, one of the most influential Hollywood agents, congratulated her on yesterday's Speakers Grand Slam success and said: "Very emotional speech that captures the audience".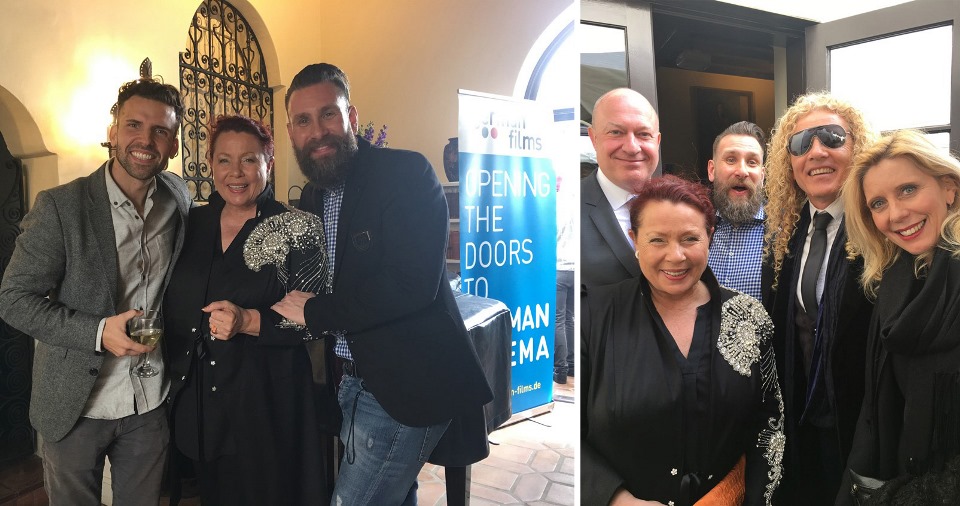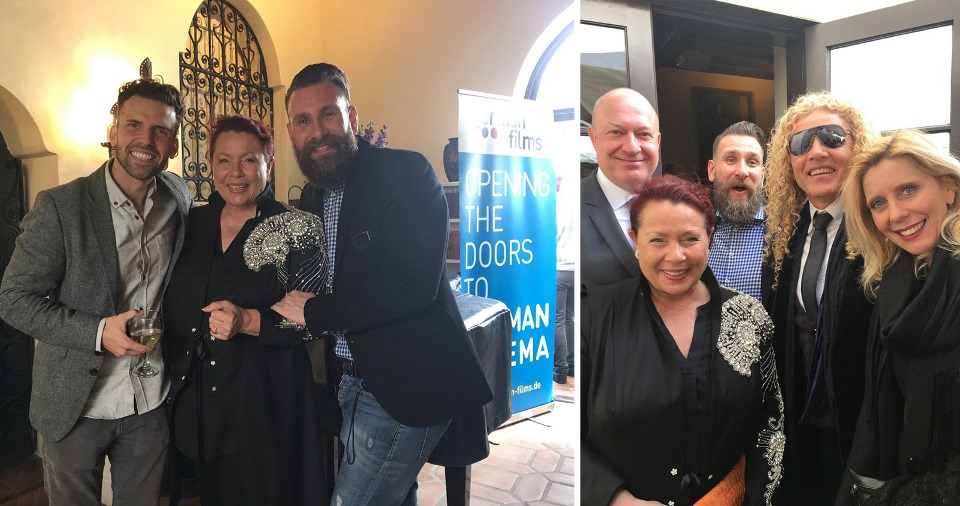 2018
Radio interview at the 2nd largest radio station in the USA – iHeart Radio

2016: The Americans call her "The Voice" in the world of business (quote iHeart Radio 2016). At the US Speaker Grand Slam 2016 she amazed her audience in Beverley Hills with a passionate speech about her favourite topic communication and received standing ovations for it.
In 2017 she was one of the winners of the Eden Achievement Award 2017 in Beverley Hills. This year she was described by iHeart Radie as: "She is one of the greatest entrepeneur minds Germany has to offer". 4.5 million listeners listened to this broadcast of the 2nd largest radio station in the USA.
In 2018 she continued her success from 2016, when she was the first German speaker to win the international Speakers Slam. The 2nd US Speaker Grand Slam took place in Hollywood at the Marilyn Monroe Theater. Candice Bar from Luxe Life and UBN Radio/TV was so enthusiastic about this success that she immediately invited us to the station and the exclusive interview. Millions of listeners followed us again on the radio and wanted to know what's new from the German entrepreneurs who are here in the USA.
2018
Second international Speaker Grand Slam,
Marilyn Monroe Theater in West Hollywood , Los Angeles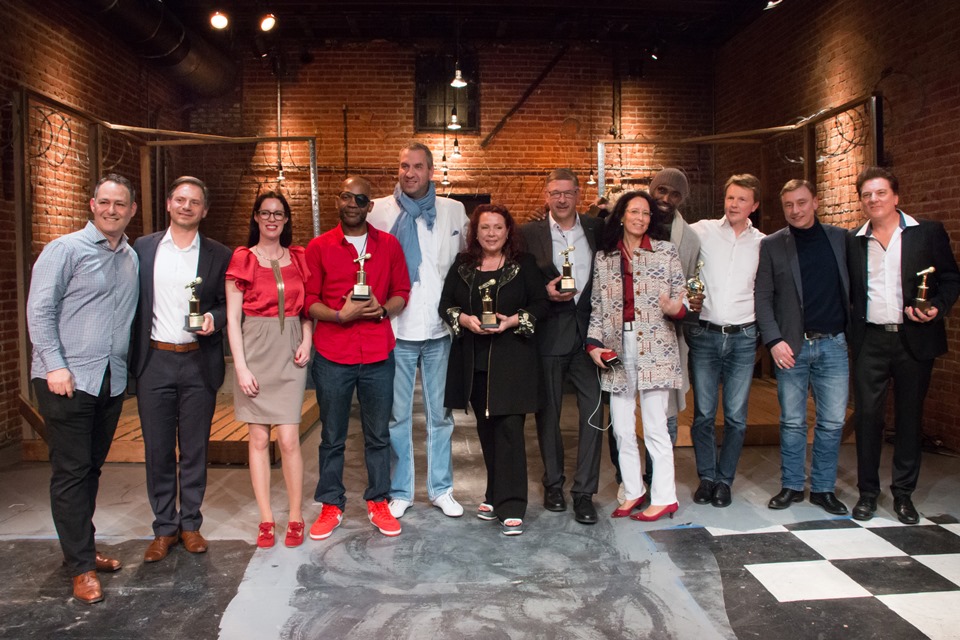 David Strasberg, Marcus Rübbe, Adrienne McQueen, JLouise Mills, Marcus Giers, Astrid Arens,
Gerhard Matthes, Claudia Giers, Keith Mitchell, Matthias Bartsch, Werner Daehn, Christoph Ulrich Mayer
The top German speakers arrive at the theater well prepared and in a good mood, as do their US colleagues. The jury is very excited, exchange ideas, check the premises, the light and welcome all participants and the international audience. The atmosphere is great.
The mixed jury consists of interesting Hollywood personalities, such as David Strasberg (hottest acting school in LA), Ruth Bornhauser (one of the most influential Hollywood managers), Werner Daehn, one of the most successful Hollywood exports (known from "xXx" with Vin Diesel and "Valkyrie" with Tom Cruise), as well as Marian Thomas Grifftith and Marcus Giers, the initiators of the US Speaker Slam. The internationally active actress and singer Adrienne McQueen charmingly moderated the slam and attested the high professionalism of the German speakers.
The attention of the US speakers to the Speakers Slam was high. The density of celebrities among the US speakers was high. Keith Mitchell, NFL Football-Star and JLouise Mills, CBS – TV series star (Heartbeat), go on stage and fascinate the jury and the audience from the very first moment. The tension rises as the German top speakers perform.
What was very interesting was that there was a winner in the female category 2016, who was there again in 2018 and was able to continue her grandiose success. The top speaker and business expert for neurocommunication and neuromarketing, Astrid Arens. David Strasberg was very pleased about this and attested that she has a professional appearance that emotionalizes, inspires people and is attractive for the international stage.
2017
Exclusive hour-long interview at iHeart Radio, the 2nd biggest radio station in the USA
Getting the Eden Achievement Award has attracted very much attention in the USA, so we were invited to an hour-long live interview by Candice Bar – Luxe Life.
2017

Ceremony of the Eden Achievement Award in Los Angeles, Beverly Hills
The US engagement pays benefits. First time ever the Eden Achievement Award is granted in 2017. And the first European and German female award winner is Astrid Arens – The Voice – Speaker and Top Business Expert in (Neuro-) Communication/-Marketing and Sales.
Congratulations from international personalities such as:
Hollywoodstar Tony Tarantino (Director, Producer), Rockstar Chris Pitman (Guns N' Roses), Stephen Rivkin (Editor, Brit Film Award winner & 3-times Academy Award nominated for Avatar & Pirates of the Carribean), Award winner & Hollywood actress Dina Morrone (Spiderman/The Bourne Ultimatum/Twilight Saga), internationally known singer Marie Elena Infantino, consul general of Bolivia Fernando Lazcano-Dunn along with his wife, German consul general Hans Jürgen Neumann,
and from all other Award winners in 2017:
Award winner Keith Mitchell (NFL Football Star),
Award winner Bruno Serato (Entrepreneur-Philanthropist-CNN Hero),
Award winner Carlo Ponti jr. (Conductor of the San Bernardino Orchestra),
Award winner Marcus Giers (Speaker & Brand Expert),
Award winner Marcus Rübbe (Speaker & Philanthropist),
Award winner Gerhard Matthes (self-made Entrepreneur & Speaker),
Award winner Christoph Ulrich Mayer (Businessdesigner).
More prominent guests were: Robert Morrone and his wife Heide Hryzyk-Morrone, Mary and Sabrina Gedon, Gloria Kisel-Hollis, Gary Greene, Claudia Giers (successful entrepreneur) and many more.
2017

Certified as "Master of cognitive neuroscience (aon)"
What a great moment. I was decorated as the first in Europe together with 33 other graduates as Master of cognitive Neuroscience, granted by Prof. Dr. Gerhard Roth, leading international recognized neuroscientist, University Bremen, and Torsten Seelbach, founder of the Academy for Neuroscientific Educational Management. An award respectively a degree which is second to none in Europe.
2016

Academy Awards, Los Angeles
What a sensational event. A dream of mine came true – to experience the legendary Oscars. A few meters from the superstars, we were able to surround ourselves with the famous Oscar atmosphere. Good, better, classy, sensational. A stretch limousine brought us to the Oscar dinner, where we ate among stars such as those from Fast & Furious, Dallas, Los Angeles, etc. Afterwards we went to various After Show parties. Unforgettable moments. Wonderful people.
2016

First International Speaker Grand Slam, Beverly Hills, Los Angeles
This Speaker Slam was organized by the Higher Master University, represented by Ashkan Tabibnia, Secret Knock founder Greg S. Reid, and the company Einsmacher, represented by Marcus Giers.
The specialty of this Speaker Slam was that every single speaker after their speech, which were all held in English, were directly evaluated by a judging panel in front of the audience. According to Forbes Magazine, the best TOP US speakers sat in the judging panel as well as US directors and producers. 200 guests, a camera team and several photographers made the red carpet that followed very special. Many interviews were given with excellent networking.
The judging panel included Antonio Gellini PhD (World Film Institute), Marcus Giers (Success Producer), Greg S. Reid (Founder of Secret Knock & CEO of Napoleon Hill Foundation), Allyn Reid, Mark Anthony Bates (The coach of coaches), Berny Dohrmann (Chairman & Founder of CEO Space International), Gene McNaughton, Brian Smith, Steve Jennings, Ken Courtright and his wife Kerri.
The female winner on this evening was
– the "VOICE" in the world of business – Astrid Arens
What an experience.
2016

Radio Interviews in Los Angeles with iHeart Radio and LA Talk Radio
They were exceptional highlights. The programs of both radio stations reach millions of listeners. To be able to speak to such an audience is brilliant. They were very interested in what experts like myself do. As a result, I had the prime opportunity to introduce my topic of (neuro-) communication. What an experience. I'm coming back.
2016

Lee Strasberg Drama School, Los Angeles
Los Angeles – Hollywood is actually the "City of Cities" next to New York, when it comes to professional acting. Two weeks long I was intensively schooled in Public Speaking. David Strasberg has his very own idea about the topic. In his opinion, a speaker is just as much an actor as an entertainer. It was so much fun, but the ideas are so valuable.
Famous film stars such as Uma Thurmann, Christoph Walz, Adam Sandler, Marlon Brando, Julia Roberts, Sienna Miller, Angelina Jolie, Benno Führmann, just to name a few, attended this school. David Strasberg personally coached us along with his fantastic team. Many thanks for your zeal and commitment.
During this fourteen day visit, we also visited the legendary Bobbie Shaw Chance Drama School in LA. Here we experienced firsthand a casting, film directors, producers, actors; all were there and demonstrated their proficiency. The casting was done on the spot. A very impressive moment and a fantastic woman.
2015

Stanglwirt – Going – Kitzbühel
After three days of intensive speaking and workshops in Stanglwirt, I can finally unwind – on the motorcycle off into the Alps with the wind in my face and lots of enjoyment in my heart. The absolute highlight was the Harley Davidson get-together in Kitzbühel. Highly recommendable.